If you're thinking of applying for a construction loan, there is a lot to consider, and while doing your research, you may run into some unfamiliar terms. Below is an explanation of some construction loan terminology you're likely to come across in the world of construction loans. Some terms related to new construction may seem obvious and others might surprise you!
We've broken it down into three categories: Construction Financing Terms, Residential Building Types, and a General Glossary of other terms that may be helpful to know.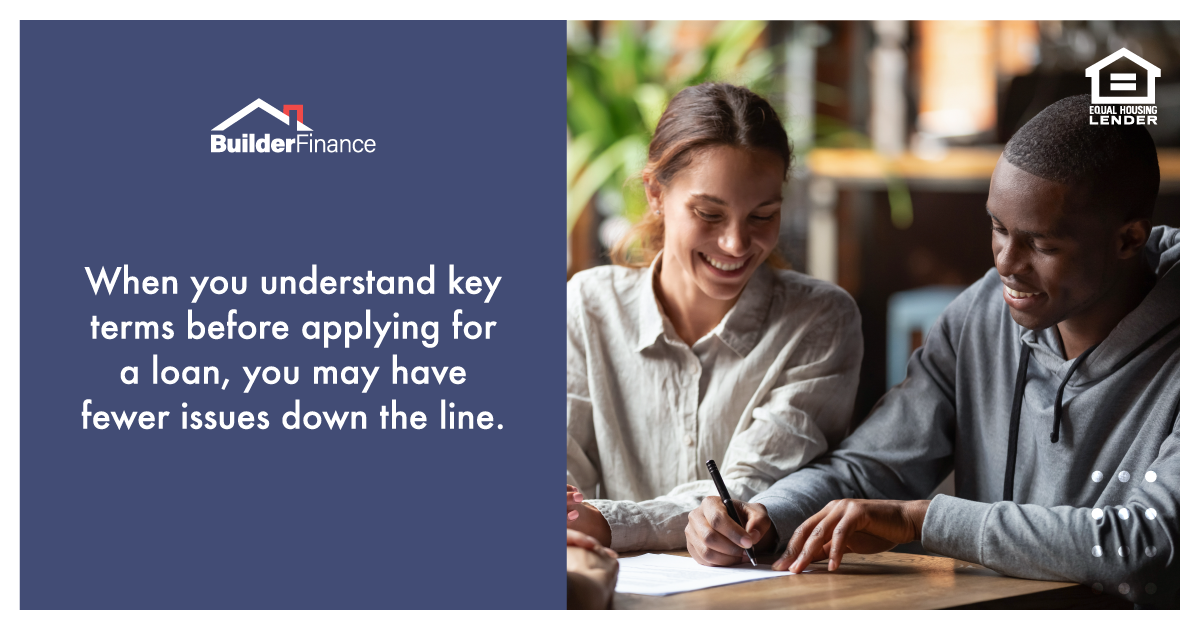 Construction Financing Terms
There are many kinds of finance options available for new construction, and it's helpful to be familiar with them before you approach your lender.
Construction-to-Permanent Loan
A construction-to-permanent loan is a construction loan that converts to a regular mortgage. It generally requires one loan closing and the terms for both stages are agreed to prior to closing. The benefit of this type of loan is that interest rates can be set, funding committed, and duplicative closing costs are eliminated. A build-rent loan and a fix-rent loan offered by Builder Finance Inc. are examples of construction-to-permanent loans.
Construction Loan
A construction loan or construction-only loan is a loan that covers the construction period plus time to exit, e.g. time to build, market the home, and have the buyer close. It is not considered long-term financing.
Down Payment
An initial cash contribution which is likely sized as a percentage of the total capital needed. Down payments on construction loans tend to be some or all of the land cost.
Draw
Draws are increments at which the lender gives a portion of money to the borrower or contractor. Draws are generally based on work completed, ensuring the project is progressing as planned. Draws may also be for items ordered, e.g. windows or cabinets. A lender may or may not limit how many draw requests are taken.
End Loan
An end loan is a new loan, obtained upon the home's construction completion, and is used to pay off the construction loan.
Interest-Only Loan
An interest-only loan is a common type of construction loan. It means that during the construction process, the borrower is required to pay interest on the loan rather than interest and principal.
Line of Credit
A line of credit may also be referred to as a revolver or revolving line of credit. A line of credit is designed to be a relatively long term lending arrangement. With a line of credit, after money is repaid it can be borrowed again. Such a structure is typical for financing multiple spec construction projects – at the same time and/or in a sequence with later projects not breaking ground until earlier projects repay.
Project Loan
A construction or term loan that is typically used for a single project.
Revolver Loan
A revolving loan, or revolving debt, is a line of credit in which the borrower maintains an open credit line up to a specified limit. Unlike a term loan which is the standard construction loan structure, a revolver means that loan proceeds can be recycled - drawn down, repaid, and drawn down again - subject to the conditions of the loan agreement. It typically allows for construction of multiple projects at different times. Spec revolver construction loans, or spec lines of credit, are a valuable funding option for builders.
Term Loan
This is a standard construction loan and covers the construction period plus time to exit.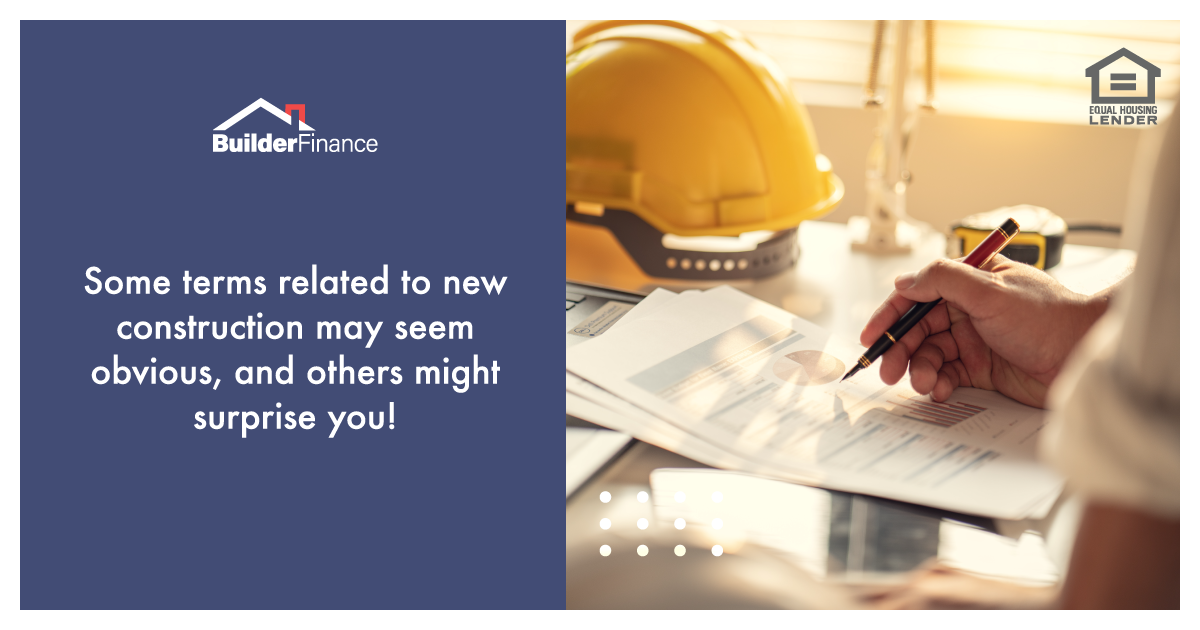 Residential Building Types
Custom Home
A custom build is one in which a buyer works directly with an architect and builder to design, plan, and choose the entire property. With custom construction, the builder is realizing the buyer's vision, from foundation to finishes and driveway to doorknobs. These may be built on a lot the builder provides or one that the buyer already owns.
Inventory Home
A type of home that contributes to the ready-to-buy market, spec and model homes are types of inventory homes.
Model Home
A model home may also be known as a show house or a display home. A model home is like a spec home, as it's been built to be sold without a specific buyer lined up and is a type of inventory, move-in-ready, or quick possession property. Model homes are often designed and built to maximize efficiency and may even be built in batches. They will typically have standardized floor plans and features and limited or no customization options for the buyer. Model homes are often associated with residential subdivisions, and are appealing to buyers looking for a house they can occupy quickly and affordably.
Move-in-Ready Home
A type of home that can be occupied immediately after selling, often spec and model homes are move-in-ready.
Pre-Sale Home
A presale home is purchased prior to construction, unlike a spec home. These are often built from the ground-up and the buyer may have selected the lot, the home plan, and features before construction begins. The level of customization for pre-sale homes can vary widely, from a very standard building to semi-custom.
Previously-Owned Home
A pre-owned home is an already-built existing structure that was built by someone else. Previously owned houses range from "turn-key" or "move-in ready" to "as-is" investment properties that will require extensive renovation before they can be lived in. They may be sold as-is, or after being renovated or restored by a buyer-builder.
Quick Possession
A home that can be bought and moved into very quickly.
Semi-Custom Home
A semi-custom home is in the middle of the spectrum between custom and spec homes. For this kind of new construction, the builder provides the buyer a catalog of designs and other options and the buyer selects what they prefer. The buyer will typically have input in details like countertops, paint, flooring, lighting, fixtures, and design details like tiles or trim, making it a partially customizable experience.
Spec Home
Spec refers to a type of home that is built "on speculation" and is designed according to market trends with the goal of selling it at a profit. While these homes are often part of large subdivisions, they can be standalone properties on large lots or built in infill lots as well. Generally set plans and standard finishes are used (with upgrade options available) to ensure efficiency, uniformity, and predictable timelines.
Spec homes can become pre-sale or semi-custom homes, if they're purchased before completion. Depending on the point in the build when the house is purchased, the buyer may or may not have input into construction details such as finishes and appliances, for example.
Tract Home
Tract homes or production homes are new construction houses of similar style built in a housing development of subdivided land. They offer little or no customization to the buyer. Most often they are created with scale in mind, using a limited number of styles and floor plans for the structures. Because builders can purchase materials in bulk, and standardization makes them more efficient to build, they are often less expensive for a homebuyer than custom or semi-custom builds.These inventory homes are usually move-in ready properties in higher-demand areas, which can be appealing to buyers as well.
General Glossary
Appraisal
An appraisal is a third party value estimate of the value of a property. For an existing property it is based on a review of features, quality, geography, and based on comparisons to similar properties. Market analysis is also included.
When appraising new construction, like a spec home, the valuation is based on a projection of the completed project. Since the structure is unbuilt, the valuation is based on construction plans and specifications, the value of the lot, and by making comparisons to similar properties and market trends.
Most lenders will require an appraisal to be considered for financing. Most buyers will also require an appraisal, since their lenders require the same.
Carrying Costs
These are recurring costs that the owner (in this case, the builder) pays on a property while they own it. They may include taxes, insurance, loan payments, utilities, HOA dues, or any other costs related to the property. For spec builders, it's important to understand carrying costs, since they can vary greatly between properties, and the investor's return on investment will be negatively affected by them if a property doesn't sell as quickly as hoped.
Extras
See Upgrades
Fix-and-Flip
A fix-and-flip is a previously owned home that an investor purchases with the intention of fixing, upgrading, or restoring the property and selling it for profit. The "house flipper" can vary widely in experience and skill, from individual owner-builders working on one house at a time to experienced residential contractors who may have multiple flipping projects going at once.
General Contractor
A general contractor is a third party overseer on a construction site. He or she is responsible for ensuring aspects of the project are progressing as planned. This may include communication and liaising with all of the myriad trades and vendors. If you are not an experienced builder, your lender may require you to hire an experienced general contractor in order to qualify for a construction loan.
Infill Lot
An infill lot is a piece of property that is in an area that is built-out. For example, the remaining lot in a developed subdivision of single-family homes, or in an existing residential neighborhood. In an urban environment, an infill lot may be one where a building previously existed and has been demolished upon which a new building can be built.
Inspection
An inspection is a third-party assessment of the home's structure and other key features. For a builder, inspections typically occur when draws are requested, e.g. after framing is completed, so that the lender can check construction progress.
New Build
This generally refers to a new structure being constructed from the ground up.
Private Lender
A private lender is a non-bank lender. A private lender gets some or all of its money from private sources such as private investors that is often loaned at a higher rate than what a bank would charge. Accessing this money tends to be expensive, with a high return expectation on the part of the private lender.
Profit Margin
The profit margin is, simply, the amount of revenue that exceeds the cost of a project. Maximizing the profit margin is the goal for most building projects. When calculating the possible profit margin it's important to consider carrying costs, cost to sell, and the projected cost related to materials and labor.
Tract Housing Development
A tract development is created from one large piece of land that has been subdivided into separate lots for new construction and sale.
Upgrades
Upgrades are changes from the original building plan that a buyer may wish to make to customize their home. For example, a builder may include a laminate floor or carpet as a standard option, but will upgrade them to tile or hardwood floors for an additional cost if the buyer wishes. These upgrades can be planned early on in the construction process for a semi-custom home. Some spec builders choose to sell before completing the build so they can customize the home with the buyer, upgrading from the "basic package" to one that suits the buyer's budget and tastes.
Construction loan terminology can be confusing. It may help to understand these terms before applying for a loan so that you know what things mean!