Loans to investors for Investment Properties (Build to Rent go here):
PRICING: 3.9% - 5.5% fixed for 5, 10, or 15 Years: great investment property mortgage rates.

FLEXIBILITY: If need more time, 2 year extension option after the 5, 10, or 15 year fixed period. Extension rate floats at the greater of Prime +1% and the original fixed rate.
BRIDGE: Need a tenant? Need to do work? Don't get a bridge loan, we can work with you.
SERVICE: Unlike many lenders, we fund AND service these loans. Assistance is just an email or phone call away.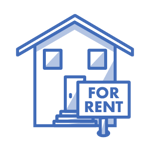 1 Point
---
Rates as low as 3.9%
---
Up to 75% of Value for single-asset loans
Up to 80% of Value for 5+ property portfolio loans
---
Interest Only available
---
Non-Recourse available
---
7 & 12 Year for investment property Acquisition or Refinance
---
17 Year for investment property Acquisition (purchased within past year)
---
Foreign nationals eligible
---
Coast-to-Coast lending