When it comes to new construction, there are several kinds of residential builds that builders may consider. One of those, the spec house, provides interesting opportunities and challenges.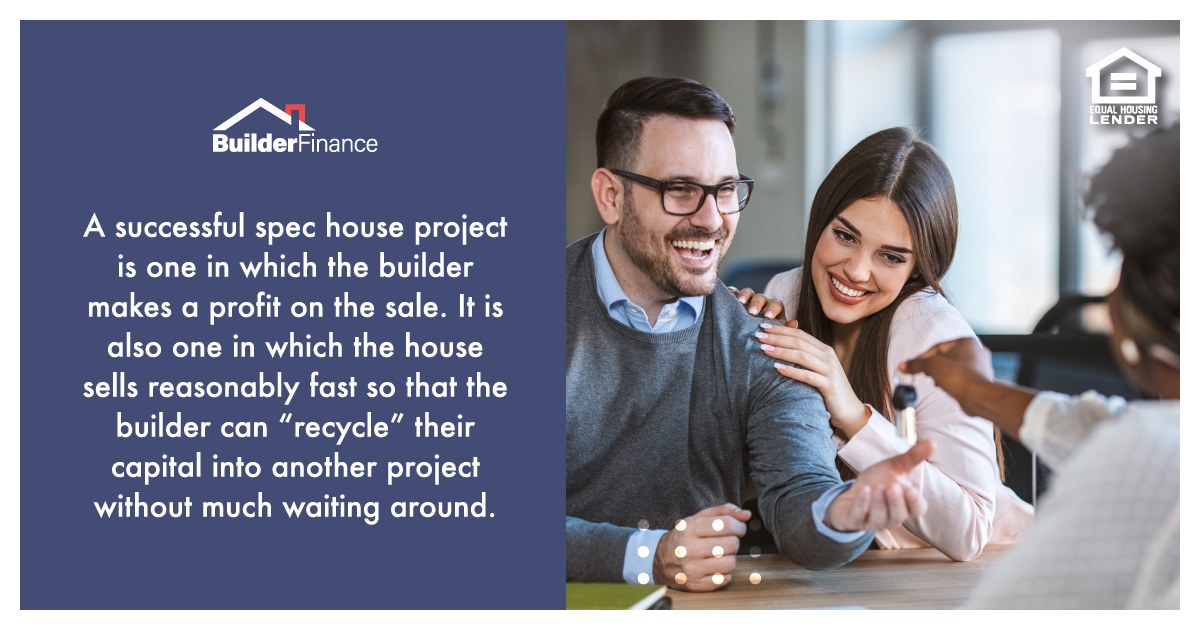 What is a spec house?
A "spec house" is a new home built on a speculative basis. It's built with the intention of selling and there's no buyer lined up in advance. As such, absent a committed purchaser, the builder builds what they want to build without much if any input from the eventual buyer. Spec homes may also be referred to as "move-in-ready" or "inventory" homes.
Other kinds of new home construction include but are not limited to:
Pre-sold or pre-sale home
A pre-sold or pre-sale home is a home for which there is a buyer committed to purchasing the house but the builder holds ownership.
A pre-sold house often starts off as a spec house and then once a buyer enters into a binding purchase contract, the house is considered pre-sold. When there is a buyer the house is no longer spec and the buyer will often provide input on design decisions.
Custom home
If the end-user holds ownership and hires a builder to build a house, that may be considered a custom home. Depending on the builder's contract, the buyer will typically be heavily involved in design decisions.
Build-rent
Another type of home construction that is similar to spec is build-rent. This is if the builder does not intend to sell the property upon completion and instead plans to hold it as a rental property.
Planning to build a spec house
A spec home is unique as there is no committed buyer.
When planning to build a spec house, the builder likely considers their market knowledge and feedback from prior projects when designing the house. In other words, the builder believes there will be demand for what they are building.
The planning stage is key, because to be considered for most kinds of funding, a builder will need to provide a lender with their plans, budgets, and specifications of the new home. The property and plans will be appraised and a valuation provided. Funding is typically tied to the appraisal report as well as other diligence performed by the lender suggesting that it will be a successful project and loan.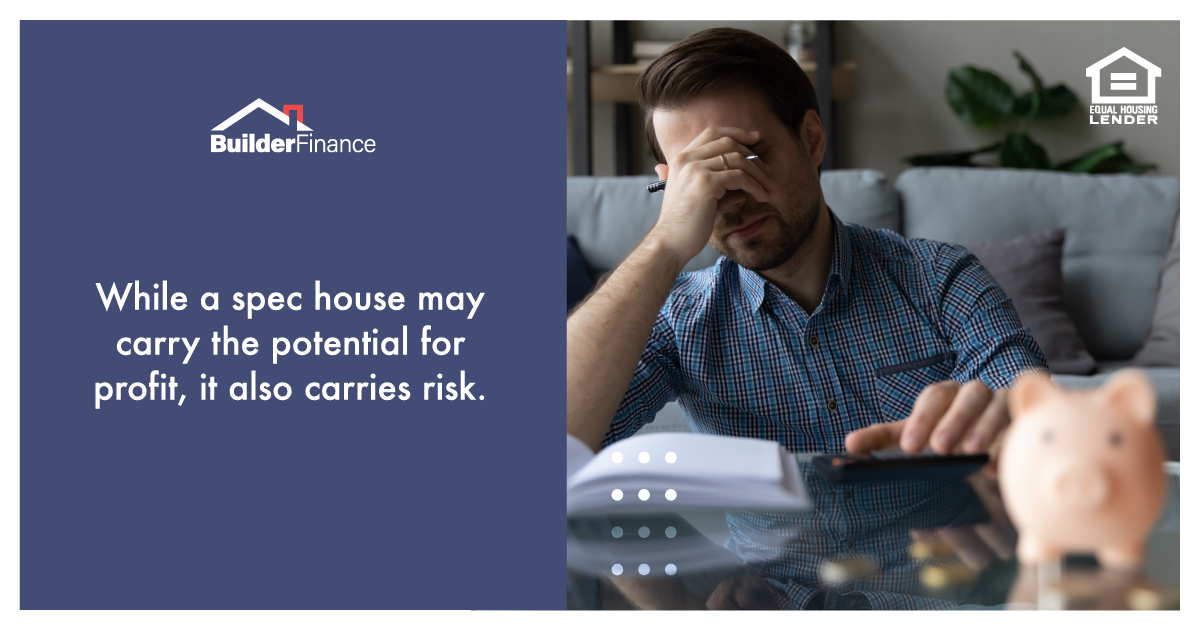 Getting funding for spec homes
Of course, a spec home carries more risk than a house with a committed buyer. The more risk, the more challenging and costly it can be to find a funding source. As you prepare for your spec construction loan application, be as decisive, accurate, thorough, responsive, and communicative as possible with your lender.
To get funding for a spec project, the builder will supply the lender with the property address, property contact, budget, plans, construction specifications, and information about the location. The lender will have the project appraised. The appraisal process can be time-consuming, but good planning and cooperation with your lender will make it as efficient as possible.
Building a spec house
One key difference from other home building projects is that the builder will make all or almost all the decisions about the property. The builder selects and purchases the lot and chooses the house design and floor plans. They'll carefully consider current trends in the market and what appears to be popular among people in the area where they're building. They'll choose the materials, interior details, and even amenities like an outdoor kitchen, pool, or workshop space.
Some will leave certain items up to the eventual buyer, who can make selections from options provided by the builder. This way the home can be partially customized by the future owner and better match their preferences.
For example, the builder may not install kitchen countertops until there is a buyer and that buyer picks what they want. There may also be upgrade options: the builder may not build-out closets until the buyer decides whether they want to pay more for a fancier build-out.
Selling a spec home
A successful spec house project is one the builder makes a profit on the sale. It is also one in which the house sells reasonably quickly, allowing the builder to expeditiously take their money and re-invest it into their next project.
The laws of supply and demand impact all real estate sales, including spec houses, and the market moves and changes. Typically though, spec homes are often very appealing to buyers. New homes typically sell at a premium to older houses. Buying a new spec home represents a lot less time and effort for a buyer relative to procuring land and orchestrating a custom build. No one has lived in a spec house. This means it is new and clean. There are no personal items, clutter, and odd paint choices.
For buyers, spec houses are expected to come with fewer headaches, since they are less worried about repairs in a brand-new house. Additionally, many spec houses come with a warranty which wouldn't even be feasible for most existing homes.
Generally speaking, this helps sell Spec homes.
Why choose to build a spec home over other kinds of new houses?
Spec houses give the builder creative, managerial, financial, and material control of the property they're creating. A builder may build multiple houses in a similar time and in a similar timeframe, which creates efficiencies and lowers costs.
Spec houses are typically popular with buyers because they are new and have been built with current trends in mind.
Finally, while a spec house carries risk and the potential for a financial loss, it also carries the potential for profit.