A "spec house" is a new home built on a speculative basis, created with the intention of selling but with no buyer lined up in advance. Known also as "move-in-ready" or "inventory" homes, these properties are typically built quickly, have a good quality standard of construction, and include the kinds of features and amenities that are currently popular.
Sometimes people wonder how those builders make it a profitable enterprise and who is bold enough to take the risks of building a house without a buyer already lined up.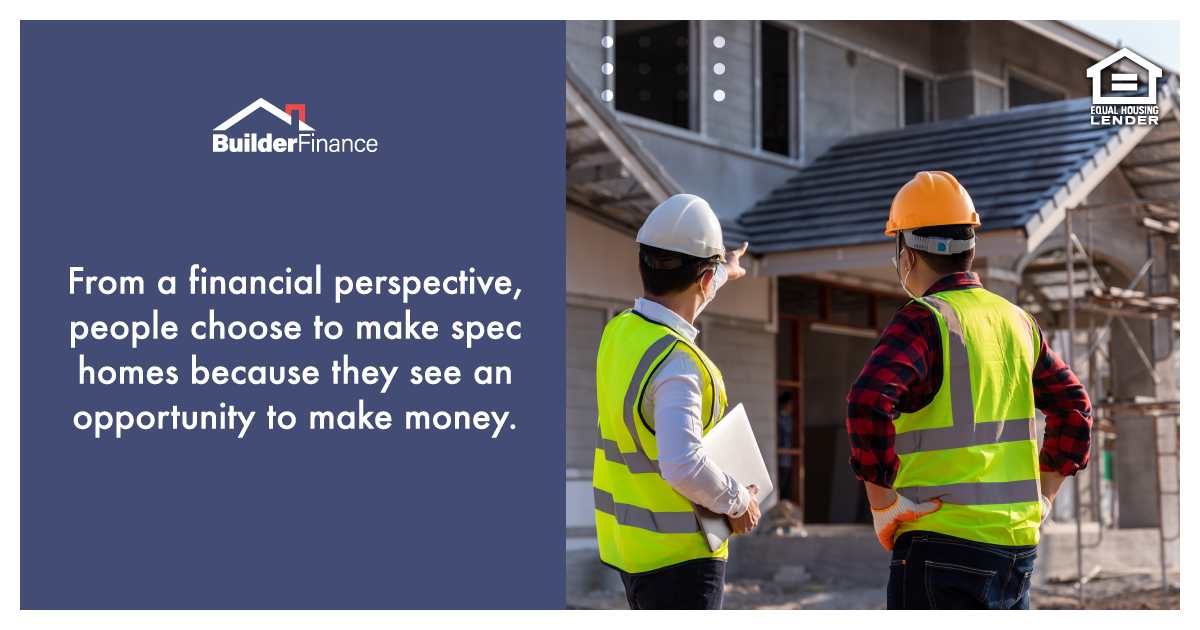 Who Builds Spec Homes?
Residential construction is led by entrepreneurs. Self-employed independent contractors operate 80% of all home builders and specialty trade contractor firms, according to a 2021 Home Building Census report by the National Association of Home Builders.
New housing for-sale builders, like those who build spec homes, include everyone from individuals to public companies to Silicon Valley startups.
The Economic Impact of the US Housing Market
Housing is big business in the US, and home building is a significant part of the national economy. Residential fixed investment averages 5% of GDP, which includes home building, multifamily development, manufactured home productions, and related activities.
The Appeal of Building Spec Homes
Spec home building specifically has the potential for high risk and high returns. When things go well, the profit margin can be high. From a financial perspective, people choose to make spec homes because they see an opportunity to make money. Experienced builders become experts at managing the costs, timelines, and overall building processes, turning them into a predictable project.
According to the home building census, new housing for-sale builders generated $149 billion in total business receipts in 2017 — and the market has grown rapidly since the pandemic began in 2020. In the second half of 2021, single-family homes were being both started and completed at the fastest pace in the last decade, reports realtor.com.
According to real estate firm Redfin, more than 34% of single-family homes for sale in December were new construction. And the supply has still not outpaced demand.
Forbes reports that nationally, home prices increased 18.5% in December 2021, compared to December 2020 — and it's continued to rise. Forbes additionally reported that for new homes, six months of supply and inventory was up 34.8%. In fact, according to Realtor.com, just 8% of new homes sold in January were priced below $300,000, compared to 26% one year earlier.
Spec Success
When it comes to spec housing, success is completing a build and selling it at a profit. Experience and know-how are vital for a successful spec project.
That includes knowing:
What to Build
Know what to build and have a solid, well-researched plan for it. The building has to be appealing to buyers, include amenities and features that are currently desirable, and be unique enough to excite a buyer but standard enough to sell reliably.
Where to Build
Being able to quickly recognize what makes a good property investment is a key to spec profitability. One of the more common issues that affect spec profitability is land cost; overpaying for land can make a spec project unprofitable. Knowing where to build takes market research and a certain amount of good instinct that is improved with experience.
When to Build
The real estate market can be tricky. Successful spec builders understand their market and know how to project the area's housing needs. Carrying costs — including but not limited to the taxes, insurance, and mortgage payments — have to be paid whether the house has sold or not, so builders have to consider that as they decide when it's the right time to build.
How to Build
This sounds like a throw-away, it's so obvious, right? But it's actually incredibly important to know how to build a house that can sell at a profit. Knowing how to build on the specific property, what the costs of materials and labor are, what subcontractors to work with and how to do it, and how to manage the project requires a diverse set of skills. In addition, successful builders have good relationships with subcontractors and suppliers and know how to manage them in an efficient manner. The best builders have gained an understanding of how to maximize efficiency, which can let them build at a larger scale.
How to Sell
There's an art to selling any property. Profitable projects may involve buyers part-way through, and a good spec builder can potentially increase their profit margins with upgrades like walk-in closets, luxury flooring, or the addition of special features, such as an outdoor living space. Having a good realtor partner can also help sell a spec house faster, and a faster sale is more likely to be profitable.
How to Get Funding
Another key part of success is how to get the proper funding. Creating good relationships with a lender that specializes in spec building can help builders understand their obligations and risks, as well as help them fund their projects reliably.
The better someone is at each of those aspects, the more successful they will likely be. Ultimately, spec success comes down to buying the property right and execution — building the right product efficiently.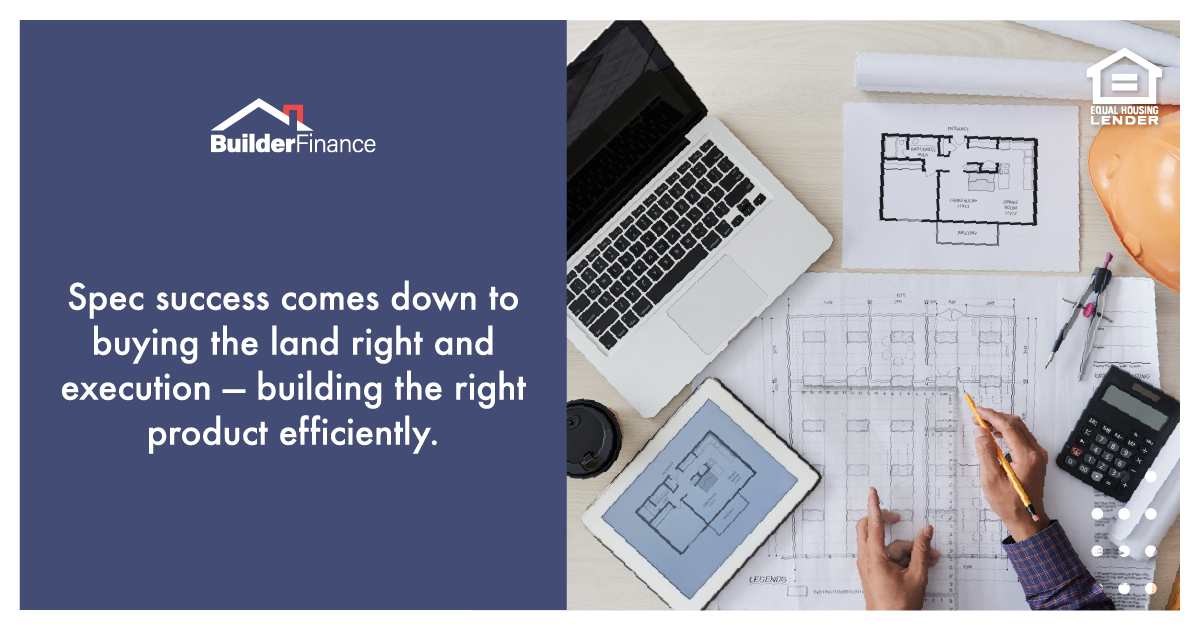 How Financing Can Affect Spec Profitability
A lender can put up most or all of the cost to build, so having a good relationship with a lender is critical. The right lender can help make the process as smooth as possible, from the loan application process to the property appraisal. Lenders with experience working in construction projects will often be able to help guide a builder to the right loan for their project.
Before focusing on maximizing profit, it's wise to focus on protecting your downside. There are two considerations, among others, that are especially important.
1. If the lender doesn't deliver, it could cost you.
You want a lender that is reliable and, even if market conditions change, will honor their commitments to fund your project.
Builders have gone bankrupt simply because their lenders lost access to money. While some choose to use a private lender, many experienced builders turn to regulated banks as their primary lender.
2. As a builder, managing liquidity is a major challenge.
You do not want to default on a loan. That could wreak havoc on your business. Successful spec builders understand things like how quickly draws are funded and what the lender looks for. Builders also have a plan in place to manage their obligations to the lender, and consider things like whether the lender requires monthly interest payments be made.