Most lenders financing new construction require an appraisal to determine your project's value. Unlike appraisals for existing structures, a new construction appraisal is essentially a third-party valuation of what will be built.
Appraisals are a critical part of the lending process, and the appraiser's value conclusion can increase or decrease a lender's willingness to loan money. So it's worth understanding the process and most common issues you might encounter with a new construction appraisal before you begin working with a lender.

What Is an Appraisal?
While the property value conclusion is the best-known part of an appraisal, an appraisal is more than just a single number value. For a single-family home, an appraisal can easily be 30+ pages. Beyond the value conclusion – what the appraiser believes the completed project will be worth – appraisals provide other pertinent information that can influence a lender's willingness to lend.
Unique Aspects of New Construction Appraisals
With construction, since the structure is unbuilt, lenders base appraisals on construction plans, specs, a budget, and the land.
Additionally, if you are building on spec or with a pre-sale contract, your plan is to sell the house after completion of construction at a profit. More likely than not, the eventual buyer will also need an appraisal. The buyer's purchase may hinge on that appraisal report, because their lender will also want to know the value of the property.
Therefore, in addition to being important at the start of your ownership in a property, an appraisal may be critical to your eventual sale of the property.
Steps of the Appraisal Process:
Step 1: Put together required items
For a construction loan, items are likely to include the property address, property contact, budget, plans, construction specifications, and a survey.
Step 2: Provide the requested items to your lender
Step 3: The lender engages an appraiser
The borrower cannot work with the appraiser. This step is for the lender to engage an appraiser. Most institutions will not accept an appraisal ordered by the client so the lender must handle procurement. Also, this can save you a lot of time - procurement can be a lot more challenging than it sounds! Many markets have a shortage of appraisers. This is a good opportunity to learn more about your lender's size and/or professionalism by asking questions like "do you have dedicated staff for ordering reports?".
Step 4: The appraiser visits the site
The appraiser may request a site visit using the contact you provided. Note that for new construction loans, the property may just be a patch of land. In cases like these, many appraisers just visit the site without an appointment.
Step 5: Review appraisal report
Your lender should provide you with a final copy of an appraisal report. We recommend you review it as well. If you feel items are not accurate or the report is based on inaccurate or incomplete information, you should convey your specific concerns to the lender.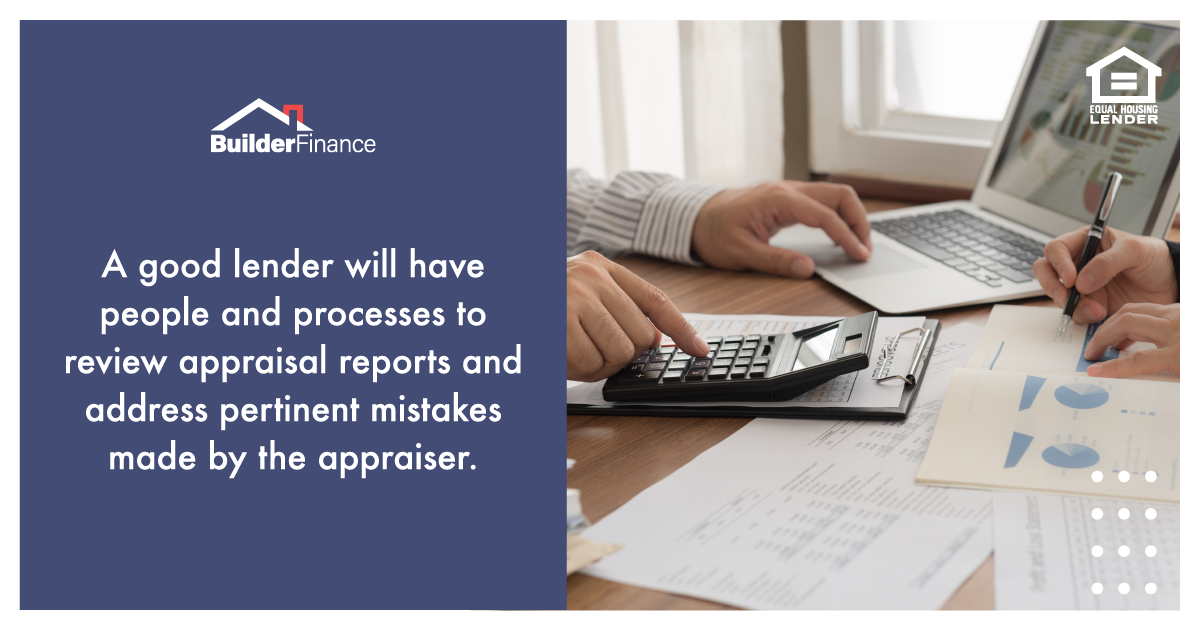 Understanding the Appraisal Report
When reviewing a new construction appraisal report, it can be tempting to just focus on the "as-completed value," but that's only one part of the appraisal.
The value conclusion for single-family homes is based largely on sales comparables. If you are appraising something for which there are no comparables, be prepared for your lender to raise the issue. For example, if you are the only pink stucco house on stilts in the neighborhood problems could ensue in getting an appraisal that a lender is willing to rely upon.
Additionally, because an appraisal is based on sales that already happened, it is always going to be behind current market levels. In a market in which values are going up, borrowers may feel that the appraised value is too low.
Beyond the assessed value, there are other areas in the report that could be a problem too. For example, if there are signals that the market is on a downtrend. Pay attention to items such as the marketing period and if supply and demand are in balance.
Common Appraisal Issues
If you have concerns about the appraisal, address them with your lender, as your lender should oversee the appraisal process. It's important that you do not directly contact the appraiser, as it can create serious compliance issues. Here are some common issues:
Appraisal Timeline
The Issue
The most common complaint about appraisals is about wait times and delays. This is largely due to a short supply and high demand for appraisers in many markets. In the years after the Great Recession, many appraisers retired. Many appraisal firms are small businesses – often with only one employee – so if a person gets sick or is otherwise indisposed, delays happen. All of this is common.
How to Address
We recommend speaking with your lender about their appraisal ordering processes and discuss with your lender how early in the process an appraisal will be ordered.
It's also important to have realistic expectations. The initial appraisal will take at least two to four weeks. Requesting changes after ordering can lengthen the timeframe substantially. The borrower cannot request changes, the borrower must go through the lender.
To help ensure a timely appraisal process and reduce the likelihood of delay, get your lender materials required by the appraiser provided promptly and accurately.
Appraised Value
The Problem
An appraisal can come back with a lower value than expected.
How to Address
Give the report a good read. If you feel that the value isn't appropriate, the best way to communicate your issues is to have a discussion with your lender about why you feel the value is low and back up that conversation with relevant facts.
For example, if there are more recent and relevant comparables than used in the report, provide those to the lender. If details are missing, provide them. The lender can then pass that information to the appraiser.
Your lender likely deals with thousands of appraisals per year and may have dedicated review staff. The lender should have a good handle on what action is prudent and can handle your concerns accordingly.
Appraisal Report Errors
The Problem
If you've reviewed your report and found actual errors, it's important to have them corrected.
Common errors include incorrect lot size, residence square footage, omitting details that can affect value (number of bedrooms, parking areas, fireplaces, etc.) Sometimes an appraiser isn't familiar with the location enough and is relying on public data that may not be up-to-the-minute accurate. And sometimes the lot images simply don't provide a good example of the quality of the view, for example it may not be great from the ground but from the second floor support a spectacular view.
How to Address
This one is pretty simple: talk to your lender and ensure that the appraiser has the most recent and factual information about your new construction project.
Provide your lender with evidence of the error and the correct information. They can help determine whether it's necessary or in your best interest to request a revision or reappraisal.
Benefits of Working With a Quality Lender
A good lender that has made loans in your market should know with which appraisers to work. Many lenders have long spreadsheets tracking appraisers and appraiser quality by market area. A good lender will also have people and processes to review appraisal reports and quickly address any mistakes made by the appraiser.
Working with a reliable lending partner can help catch appraisal issues before they become problems and result in an appraisal for your new construction project that is as accurate as possible.